So a photog buddy of mine says, "lets go to Minnehaha Falls and take pictures of the frozen falls!" You really don't need much more of an invitation for a bunch of like-minded camera geeks to go play so a half-dozen of us headed down to the park on what turned out to be a really warm day (40+ degrees in Minnesota in January? we call that a thaw).
I was somewhat limited by a damaged shoulder so I couldn't do all the clambering around that I otherwise would definitely have done. And I'm still jealous about some of the pics that a friend of mine got because clambering is something he does in his sleep. I'll give you a link to his pictures at the end... I'm jealous but they are still some phenomenal pictures! Anyway, here's some of the stuff I got from the day:
this is the view of the falls from the walkway at the top - park your car and this is what you see.
yeah - lots of people down there on the frozen creek. Mind you, thawing temperatures and the constant sound of falling ice doesn't instill confidence but.. it's all for the pictures!!
of course, getting down there wasn't as easy as you would think - the stairs were actualy closed and we had to climb over the chains to do it. This is Tim going down rappelling style - I told you he does a lot of clambering. *wink*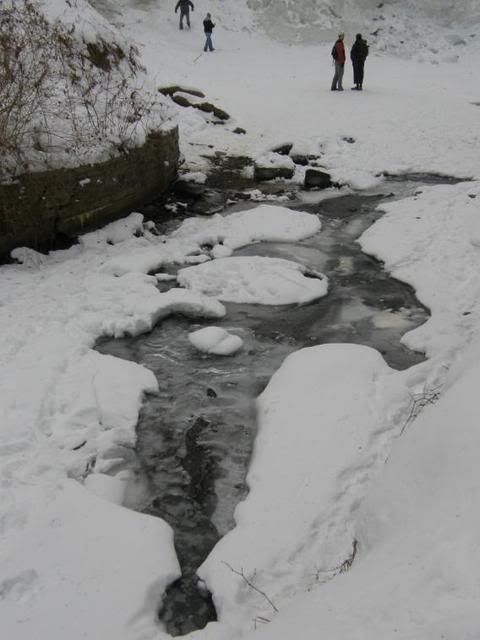 yeah, lots of us made the trip but you can see there was a lot of open water. The view was totally worth it though.
Tim struck off on an icey climb to go behind the falls while I was relegated to shots from below in the basin.
but at least the falls are still really cool!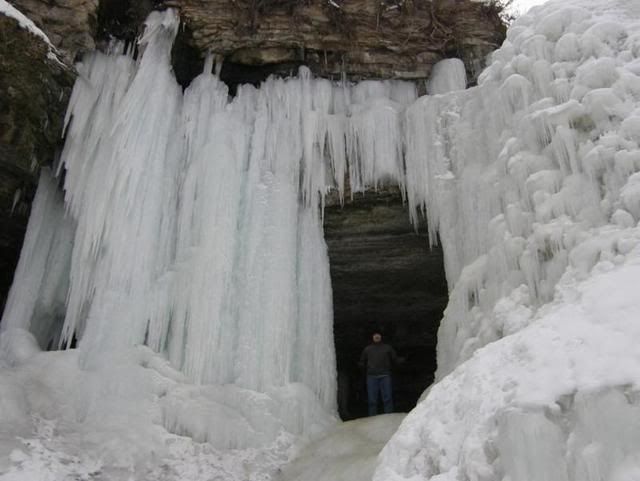 yeah, that's Tim in there... too bad he couldn't just slide down.
really - the ice we were walking on was thinning from underneath and there was a lot of open water.
open water makes for cool pics though
so we met up with the rest of the group and headed downstream
the stairs on the other bank were even worse - but some enterprising kids decided that sledding down in their snowsuits was easier! They giggled the whole way down.
Kinsey kept taking pictures of us so I got one of him!
the view back upstream
something fell through the ice here..
but the layers in the broken ice were so beautiful! Almost like an agate.
it was getting dark by the time we made it down to the big bridge but not dark enough for the lights to come on... darn.
heading back upstream on the other bank
oh wait!! the lights came on! HAD to run back to get this picture..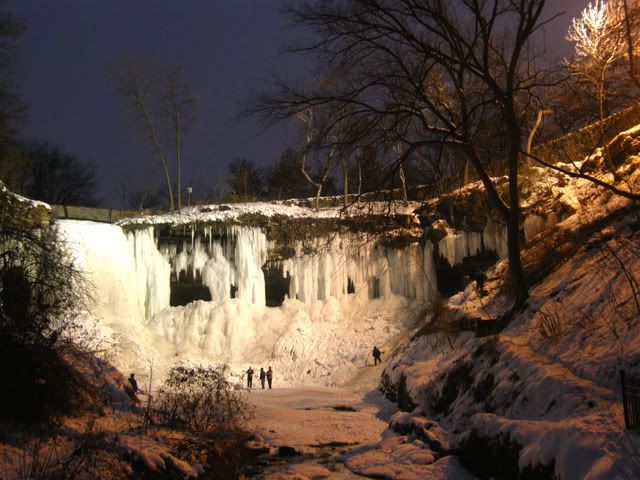 The falls are pretty gorgeous when lit up at night...
even just heading back to the parking lot had some cool view - this tree lit from so many directions just glowed.
well, that's the highlights folks. If you want to see what Tim got on the same trip, I highly recommend checking out his gallery:
http://invisi.us/gallery2/v/invisi/2008/Minnehaha/