ok... I think this is the last of the old photos for awhile. I will have to get my camera out and take some new ones to show you next.
Anyway, back in 1998, we got a group of friends together in my grandparents' motorhome and roadtripped out to a cabin we rented in the Bozeman area and hit a couple different ski resorts. It was one of the more memorable roadtrips of my life - and not necessarily for the good reasons. But that being said, I still remember the trip fondly.
The saga started on the trip out... somewhere in the middle of the night as we entered the part of the North Dakota that actually ISN'T flat, my brother started having trouble getting the motorhome to go more than 40 mph and we could just barely get up the hills..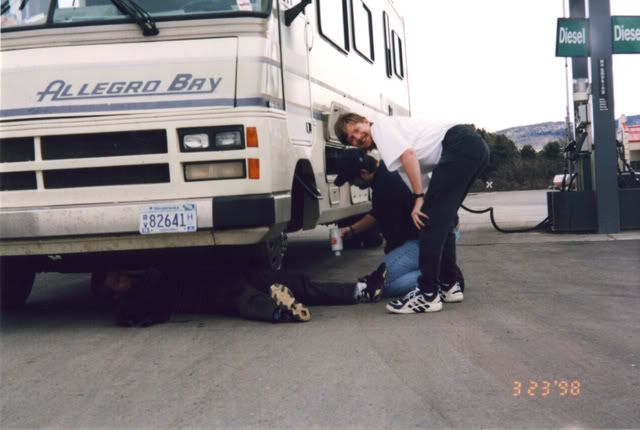 that's where we stopped at a gas station in the early morning hours just after we crossed the state line into Montana and discovered that the fuel filter was plugged and even though there was actually a Cummins dealership right off the freeway on our way, we couldn't get a new one. This was a few of the guys taking the filter out, cleaning it out as best we could and putting it back in. We should have taken this as an omen for the trip to come.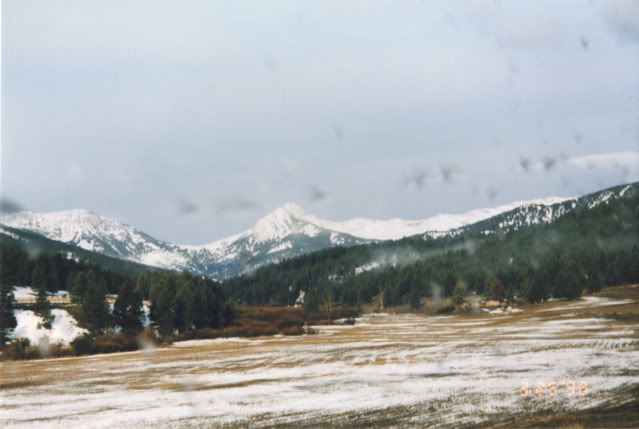 This is the Montana countryside through the window of the motorhome as we approached our cabin. You can just see it at the base of the hill. It was truly gorgeous out there.
And I know I posted these before but for reference sake, this is out back of the cabin: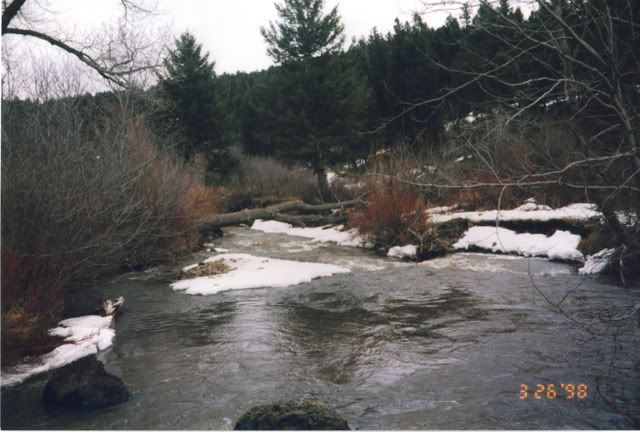 I really loved the scenery there and we even got to do some hiking.
That was some of our in-cabin activities - push up poker and 4-man chess. Interestingly enough, I only went skiing twice while I was there. Part of my problem was that I wasn't too bright about choosing to hit the mountains to go skiing for my first outting after I broke my leg skiing the winter before. My brother, Jim, will tell you how he practically had to babysit me down the hill as my poor brain freaked out. It wasn't so much that I was worried about FALLING as I think I was really worried I wouldn't be able to get back up. I also had not gained anywhere near the muscle mass in my right leg that I had lost so it really wasn't very strong and I didn't have the control I was used to either. It wasn't the greatest skiing experience I've ever had. But at least here is the proof that I actually was out there making a go of it - this is at Big Sky:
as you can tell, it was starting to snow - which made the trip back to the cabin kind of interesting.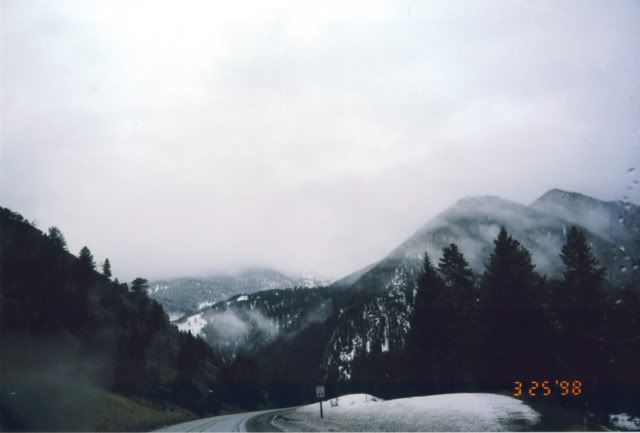 and from there, the trip REALLY started to get memorable.
I did not go out skiing the next day but the some of our group did - including my brother who ended up trying to figure out how to drive the motorhome through a snowstorm in mountain roads - with rapidly failing power-steering and brakes. I'm pretty sure that is when his blood pressure started going up. I think he might be a motorhome jinx but don't tell him I said that.
The next day (the day before we were supposed to leave and go home) was spent in the ever-exciting town of Bozeman trying to get a mechanic to fix whatever was wrong with the motorhome. If you know anything about vehicles of that size, they don't really have regular work done by your normal mountain town garage. Turns out the problem was VERY serious and they couldn't fix it.. so we could hang out for a week while they waited to receive parts that we couldn't afford anyway and we were on a VERY tight schedule so.. the week delay was not good either.
In an entertaining coincidence, one of the friends on the trip must also have been recently reminiscing because I received a link to a video that was shot while they were killing time while we were trying to figure out what to do with the motorhome... They decided to make a mentos commercial.
Due to the time and money constraints, we decided that our only hope was to limp the motorhome the 1000 miles home and have it get attention there. The problem was that we had a hole in the hydraulic system - which is a shared system between the brakes and the steering. That meant that whenever we used the brakes, it pumped all the hydraulic fluid out and we lost the ability to steer AND couldn't do anymore braking. Ever tried to drive a 44 ft motorhome with no brakes or power-steering? Yeah, that's a serious challenge. We invested in GALLONS of hydraulic fluid and set out for home - we could go about 45 minutes of very careful driving until we would need to pull over and refill the hydraulic fluid. Amazingly, driving straight through on the freeway for 24 hours with that same schedule, we actually made it home in one piece. I tell you, that was definitely more miracle than skill.
Anyway, it's still a memorable trip...