In 2000, I took a roadtrip vacation with one of my best friends to Colorado. It was a FANTASTIC vacation and we got to see a lot gorgeous countryside. So, I grabbed several of them in the scanning I was doing earlier and here's what I pulled out - lots of that trip isn't here but we'll just call it a representative sample..
Part of the trip we spent in the Colorado Springs area in an extremely adorable little victorian hotel. The reason we were in the area was to go white water rafting down the Arkansas River near Cańon City.
yeah, that's her and I on the left side of the boat. It was a BLAST - I would totally do it again.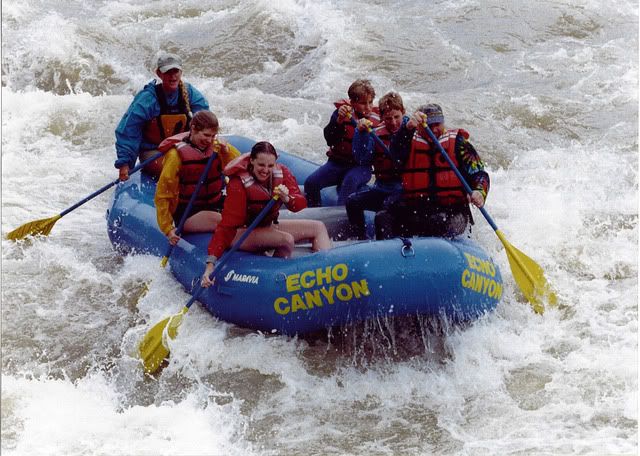 Of course, one of the cool things about going rafting in the Cańon City area is that the Royal Gorge spans the Arkansas River right near there:
of course, one of the really neat things about standing on the edge of a cliff taking pictures of a bridge is that if you stop and look down at the river below you, you can get really cool shots like this!
I really really love this picture and one of these days it will be one that I have up on the wall in my livingroom like the others I posted.
Of course, as with every trip I take, there was hiking. Happily, Jeanette and I didn't seem to have any problem with hiking in the altitude at all. But there is a place in Colorado Springs called Seven Falls - you should see it. I don't have a picture of it in it's entirety because the little camera at the time just didn't have that capability. But it's a waterfall that comes down the mountain and is broken up into 7 different sections. The scenic area has a series of staircases that go all the way up to the top. If you want to check it out, go to sevenfalls.com It's really beautiful but it's quite the hike. Here's a pic DOWN the stairs once we got to the top:
of course, that's not really the end of the hike. Turns out, at the top is a trail up to Inspiration Point which overlooks the valley containing Colorado Springs. Basically, you just follow this creek: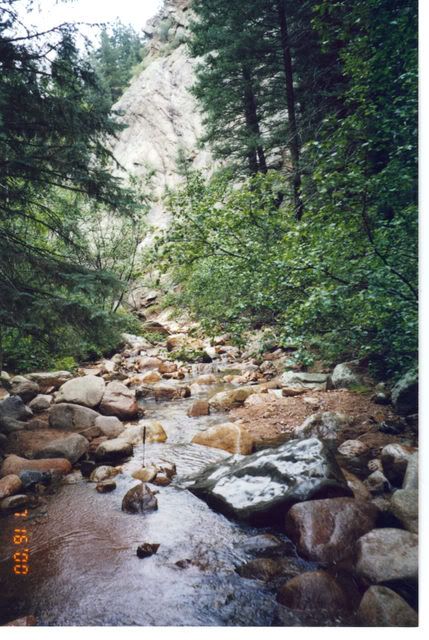 and it there are gorgeous little waterfalls the whole way up like this one:
Sadly, the pics I DON'T have are the ones Jeanette and I took on rocks of Inspiration Point when we got to the top. I think she has them though so I should find out and add them to the collection at some point.
One of the other places we visited was called Cave of the Winds. I love caves so this was a pretty cool trip even though it's very touristy. Still, the caverns were HUGE and there were so many gorgeous things in there. But I did figure out that it's hard to get pictures with a little 35mm point&shoot in a dark cave:
A lot of them turned out like this
and for a little reference - this is about 3-4 stories high
and even the walls can look cool
One of the coolest visual images of the trip started with this:
It's a pic of a stormfront on the eastern horizon that I took from the parking lot after we had dinner at Perkins. Little did we know that it would make for a very spectacular electrical storm covering the horizon that we followed the whole night driving home across Kansas. We finally caught up with it just before dawn, drove THROUGH it for about half an hour and just came out on the other side as the sun was coming up. It was cool to see the sunrise in splendor with lightening flashing right next to it. I wish I had THAT on film.
I gotta tell you, we were gone less than a week and I don't know how we managed to squeeze in all the stuff we did - we were in Denver for the first couple days and we also went horseback riding in the Garden of the Gods by Pike's Peak. I have pictures from that too but I haven't gotten around to scanning any of them in yet